In an age where mass-produced rugs are the norm, a Boutique, Artisan rugmaker emerges from the crowd...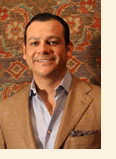 Anthony Perez has been custom designing and crafting rugs for over 12 years now. His designs are reminiscent of times past. In fact, creating replicas of, and repairing, antique rugs are specialties of his.
Anthony opened his Design Studio in the Houston Design Center 2 years ago and has been creating beautifully crafted rugs ever since. He has over 200 of his creations on display and also utilizes his space as a custom design center. As purveyor, designer and artisan, Anthony is active in every step of the creative process and sales of his fine rugs.
Marc Anthony Rugs is emerging as THE Boutique Artisan Rug Studio in the Houston area and Mexico. Whether you are looking for an antique rug, an antique recreation, or a brand new custom-designed rug for your home or office, Marc Anthony Rugs is a must see!